How to hide sheets in Excel [3 methods]
Learn how to hide sheets in Excel using three different ways: with the mouse right-click, using the ribbon, or using a keyboard shortcut.
Why would you need to hide a worksheet in Excel? Well, maybe you have some source data, and you don't want it to be visible, or you simply want to keep all your drop-down lists hidden from the public eye. Whatever the reason, you can hide as many sheets as you need using a few quick methods. Just remember, at least one sheet needs to remain visible.
The fastest way to hide sheets in Excel is using your mouse right-click. All you need to do is:
Select the sheet or group of sheets to hide. If you struggle, use this article to learn how to group worksheets in Excel.
Right-click the selection and choose Hide from the menu.
Boom! The selected sheets are now hidden and no longer visible in the Excel window.
How to hide worksheet using the ribbon
The second method to hide a worksheet in Excel is using the ribbon. Here are the steps:
Select any visible sheet or grouped sheets that you want to hide.
Navigate to the Home tab, locate the Cells group, and click Format.
In the dialox box, look for the Visibility section, click Hide & Unhide, and select Hide Sheet.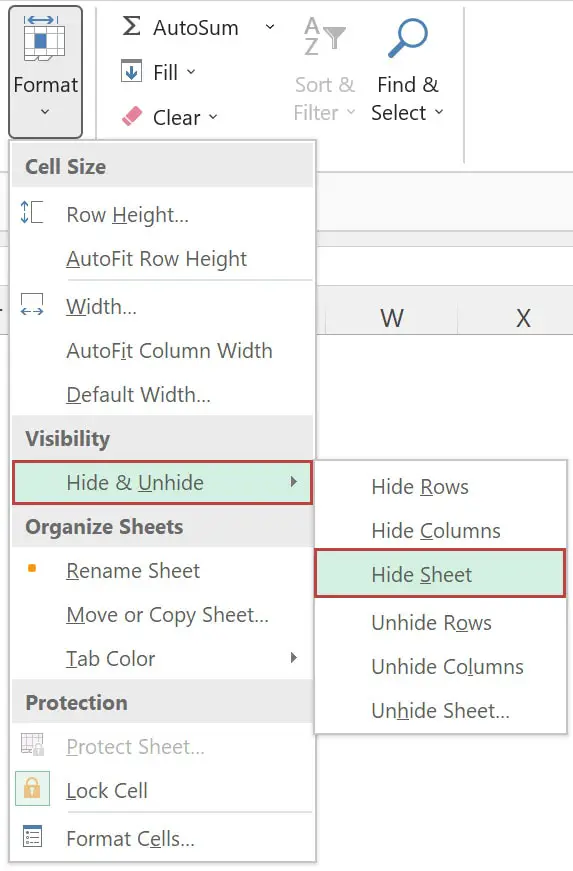 Keyboard shortcut to hide Excel sheets
While Microsoft Excel provides no keyboard shortcut for hiding sheets, you can hide a worksheet using just your keyboard. To do so, press the following keys one by one (in a sequence, not all together): ALT, H, O, U, S
How to hide Excel sheet using only your keyboard
Don't worry. You don't have to remember these keys. When you hit ALT, Excel will open the keyboard menu. From there, you can select the corresponding letter:
– selects the Home menu
– opens the Format panel
– selects the Hide & Unhide menu
– selects Hide Sheet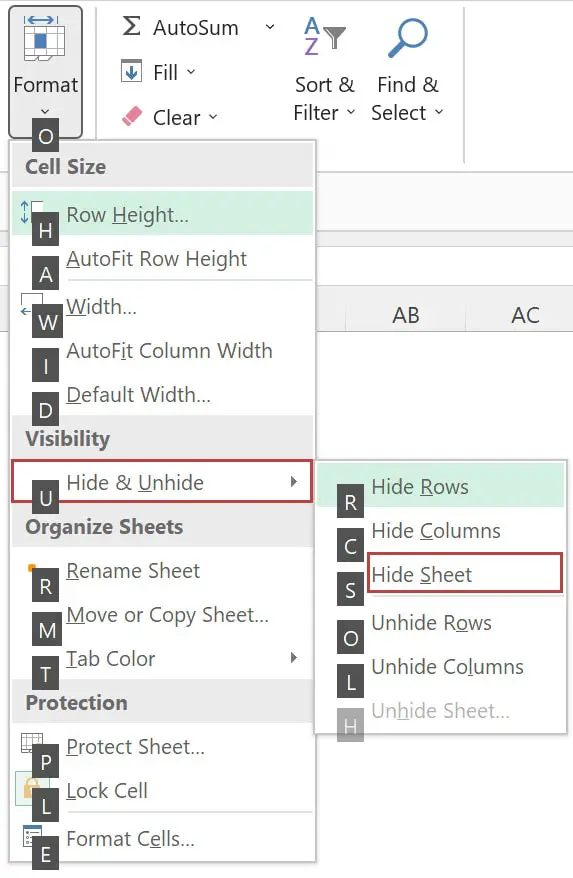 If your Excel workbook doesn't have any hidden sheets, the Unhide button is grayed out and cannot be pressed. If one or multiple sheets are hidden, then the Unhide button can be pushed, and you can use one of the above methods to unhide them. You can unhide multiple sheets at once, or one by one.
What to do next?
As you've seen, it's really simple to hide worksheets in Excel. If you need to unhide any hidden worksheets, it's just as easy.
If you have any Excel questions or how to work faster and more productively, don't hesitate to reach out. Write a comment, and I will get back to you as soon as possible.